About
Our story
Alissar Lebanon is a sister Non-Governmental Organization of Alissar France. It was established in 2020 in response to the multidimensional crisis that Lebanon is going through. A group of the Lebanese diaspora and friends formed the organization to support the reconstruction of the Lebanese social, economic, and environmental sectors.
Our Values
Alissar's values are inspired by the UN's Sustainable Development Goals, in particular :
Goal no.1 : Eradicate poverty
Goal no.5: Gender equality
Goal no.6: access to clean water in all areas of the country
Goal no.7: affordable, clean energy for the implementation of social economy enterprises
Goal no.8: access to decent work for all, to boost economic growth
Goal no.10: reduce inequalities between different areas of the country
Goal no. 12: production with a positive impact on the environment and responsible consumption
Goal no.17: All of this, through the implementation of projects in partnership with local solidarity players
Mission & Objectives
Alissar's mission is to promote and implement projects with the values of the social and solidarity economy. In order to fight poverty and social exclusion, strengthen the capacities of the most vulnerable women and youth. As well as developing initiatives with a favorable social and environmental impact, Alissar Lebanon focuses on implementing its programs through the following operations:
Providing technical and financial support to Women and Youth Social entrepreneurs.
Establishing tailored community development projects for vocational and capacity-building training.
Building partnerships with local and international stakeholders to engage in the areas affected by the August 4 Beirut explosion, Women's empowerment, education, recycling, school rehabilitation and access to water.
Implementing with local partners waste sorting and recycling projects alongside an awareness campaign as a strong commitment to the environment and sustainability of the coastal zone.
Our board members
Alissar France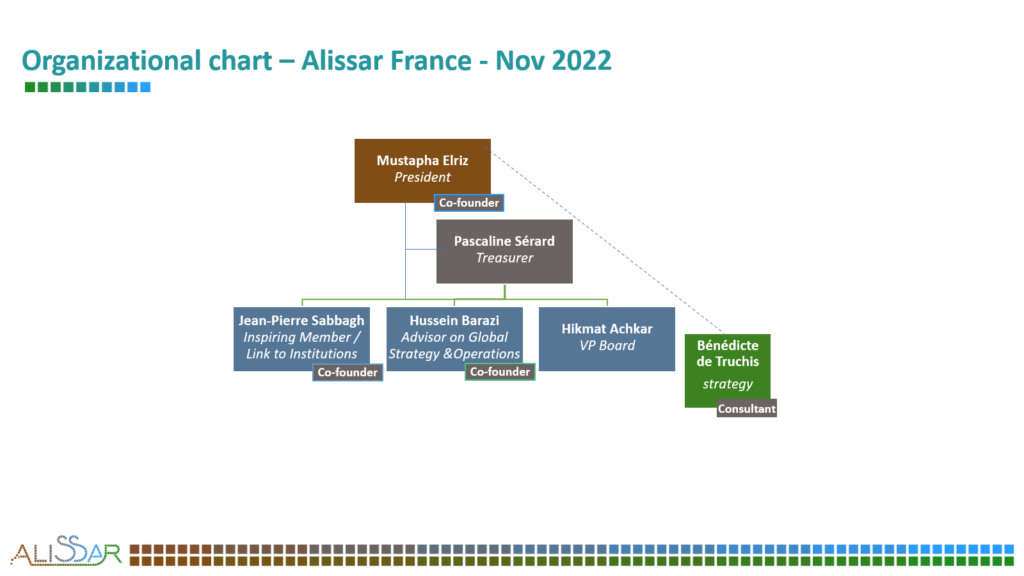 Alissar Lebanon